The Purpose Of Exterior Siding

Aesthetically, what is on the exterior of your house creates the first and often lasting impression of your home. Functionally, the siding material protects your house's structure from the elements, mainly rain and wind driven moisture. Siding should be selected based on cost, aesthetics, durability, maintenance requirements, and environmental impact. We offer a wide selection of exterior products.
---
Vinyl Siding
It's a fact – one of every ten homes with vinyl siding on the exterior features one of the brands we carry. So why is vinyl siding so popular among homeowners nationwide? It's virtually maintenance free. The color does not peel, blister or flake, so there is never a need to paint. EVER! It also offers great curb appeal with more trim options, more styles and more colors than ever before. Plus it still offers the lowest total installed cost, as well as the lowest life cycle cost over the life of the home, making it a great value. Add to that its ability to withstand high winds (certified up to 90 mph or higher) as well as heat in excess of 100°F and sub-zero cold, plus an ability to resist termite infestation and moisture buildup, and you've got a vinyl siding product that's attractive to many homeowners.
---
Insulated Vinyl Siding
Insulated Solid Core Siding is the newest innovation in vinyl siding! A line of vinyl siding products fused to a foam backing material, to create an all-in-one siding and insulation system. It's energy efficient and highly impact resistant with solid support behind the entire siding surface. By adding an additional foam insulation layer, the R-values of exterior walls are increased by R-2.9 to 3.5 depending on the profile, helping to save on heating and cooling costs. The foam is made from environmentally friendly polystyrene, which has thermal expansion properties nearly identical to vinyl siding, and moderate vapor permeability to allow the siding to breathe. Unlike conventional siding, the foam offers protection against dents and other impact damage, allowing the siding to remain aesthetically pleasing, functional, and lasting. The system provides the thermal insulation benefits of foam sheathing in a format that enhances the appearance and performance of vinyl siding, including sound control properties.


---
Fiber Cement
For homeowners that want the look of wood but don't want the hassles and costs associated with it, fiber cement siding may be a satisfactory alternative. Fiber cement siding is more durable than wood, termite-resistant, water-resistant and non-combustible. It is composed of cement, sand, and cellulose fiber. The cost of fiber cement siding is more than vinyl and less than stucco and wood siding. If painted properly, fiber cement can go as long as 10-12 years between painting. Fiber cement siding is appropriate for hot and humid climates because it is resistant to rot, fungus and termite infestation. It also has good weathering characteristics, strength, and impact resistance.

---
Siding Styles
Lap Siding
Lap Siding is the most popular brand of siding in America and can be found on over 4 million homes. With its strength, beauty and durability, siding enhances and protects homes in all kinds of climates.
---
Vertical Siding
For applications that call for vertical siding, vertical siding is equal to our lap siding in value and long-lasting performance. Because of its structural strength, Panel siding may be used as a shear panel. It can also help you achieve a board-and-batten look.
---
Shingle Siding
Shingle siding has the same warm, authentic look as cedar shingles, yet it resists rotting, cracking and splitting. It's beautiful as a primary siding or as a complement to other styles of siding. Our shingle siding panels come in a variety of decorative edges, and expedite installation in larger areas.
---
Trim Boards
Our fiber cement trim and fascia add the finishing touch to a beautiful, lasting home. They provide unmatched durability in corners, columns, windows, rakes and friezes.
---
Soffit Panels
Pre-cut soffit panels eliminate the need for separate box or strip vents and minimize the need for cutting. Soffit panels are available vented or non-vented, in a range of pre-cut sizes.
---
Colorplus Technology
Take advantage of the ColorPlus Technology to get the look you want, without the maintenance. Find out which Siding products with ColorPlus finish are available in your area.
---
Artisan Exterior Design
This new architectural grade line of features Artisan Lap and Artisan™ Accent Trim products. Backed by 15 years of research and development, Artisan Lap delivers.
---
Everlast Polymeric Cladding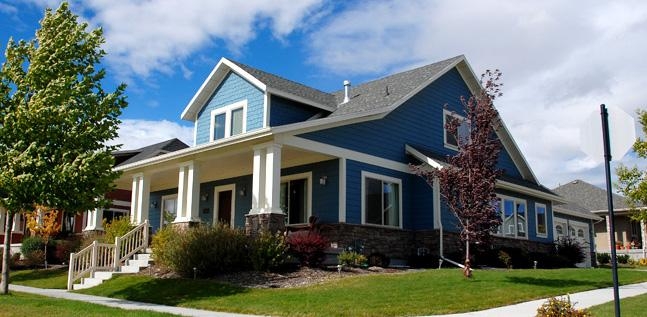 Everlast is unlike any other siding you've considered, and the moment you see it, you'll know why.

Solid construction means the planks don't bend or bow, and align perfectly against the outer walls of your home.

The look of fresh-cut cedar comes from our CedarTouch™ texture, and six beautiful colors are protected with our ColorHold® UV-stable acrylic polymer and backed by a Lifetime Fade Warranty.

Everlast will never peel, chip or blister, and it will never need to be scraped, sanded and painted.

Finally, ease of care comes naturally with Everlast products. Easy-to-clean warm, low-gloss surface returns to original luster with a simple hose-down; stains like crayon, paint, and oil are removed easily with standard household cleaners.

Whether you choose Everlast for its beauty, strength or ease of care, it's a choice you can make with confidence.
---
Cultured Stone®
Create awe-inspring rustic looks for your home with Cultured Stone®. Cultured Stone® Manufactured Stone Veneer replicates the look of natural stone. It's an exceptional choice for unique interior and exterior residential projects, as well as commercial and landscaping applications. The stones are hand-colored with iron oxide pigments and come in an unmatched variety of colors and textures. Made of lightweight aggregate materials, Cultured Stone® Manufactured Stone Veneer is approximately one quarter the weight of full thickness stone and can be adhered to most wall surfaces.
---
WRAPS & INSULATION
Exterior Insulation
Housewrap
Typically installed over wood or insulating sheathing, and under siding or other exterior covering, housewrap surrounds your home with a protective moisture resistant barrier to help seal out energy-robbing leaks and drafts (air infiltration). Working hand-in-hand with insulation, which traps air in tiny pockets to slow the transfer of heat (thermal control), housewrap functions like a windbreaker layered over a thick sweater to keep your home comfortable and energy efficient throughout the year.

---
Fanfold
For residing the exterior of your home, you can add up to R-1.5 by using FanFold Insulating Board. In addition to adding insulating power, FanFold provides a smooth nailing surface to simplify installation of the new siding. Its long, folded panels eliminate many seams for better resistance to air infiltration, a common drawback with other residing boards.
---
Insulating Board
If you are insulating your basement walls but can't afford to give up the space to construct 2x4 framing, Owens Corning offers INSULPINK® foam insulation board. It attaches to a basement wall by means of wood furring strips—no framing is necessary—and provides an uninterrupted insulating envelope along the entire wall, providing a 7.5 R-value.
* The Color PINK is a registered trademark of Owens Corning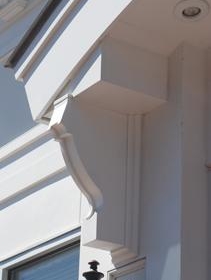 Finish Works




COLUMNS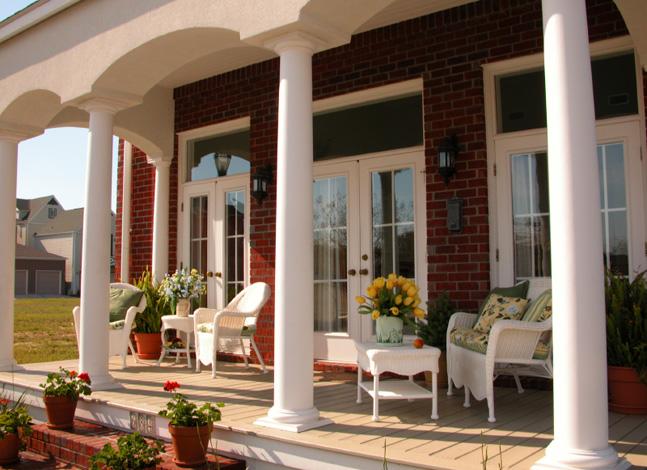 Are you ready to take the look
of your porch to the next level?
Designed with the classy look and
feel that you expect, Georgia Construction
has thermo formed Vinyl columns that
are load tested to 14,000 lbs. and uplift
tested to 900 lbs. All posts are constructed
with a full length 3-1/4" extruded aluminum
insert, and our vinyl columns are manufactured up to nine feet in length. Most of all you'll never have to paint your porch columns again!

Features

* Never Needs Painting or Staining
* Variety of Styles to Choose From
* Superior Designs: Engineered to Last
*Lifetime Warranty



MASONRY
OUR MASONRY SERVICES NOT ONLY ADD DURABILTY BUT ALSO BEAUTY AND ELEGANCE TO ANY HOME. WHETHER REMOVING PROBLAMATIC STUCCO OR JUST INCREASING CURB APEAL- LET GEORGIA CONSTRUCTION SHOW YOU HOW WE CAN TRANSFORM AN ORDINARY HOUSE TO THE HOME OF YOUR DREAMS.