---


Metal Roofing Applications
(Manufacturer- Metal Sales Manufacturing Corporation)
Long Lasting, Virtually Maintenance-Free
Exposed and Hidden Fastener metal roofs
Give your home the exceptional durability and maintenance-free advantages of metal, with our residential line of quality roofing products. Unlike common shingles, our advanced residential metal roofing and wall systems do not warp, split or crack, and are impervious to mildew, rot, termites and pests.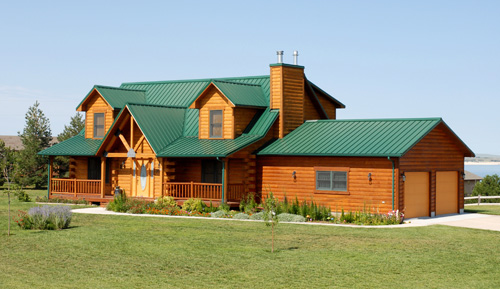 When properly installed, residential metal roofing will withstand severe weather - including high winds, hail, snow and rain - better than any other roofing material. Best of all, the non-combustible performance of our technology offers peace of mind, as well as improved fire ratings that can significantly reduce homeowner's insurance premiums.
Performance Benefits

Design Options

Service Advantages

Highly Durable
Weather Resistant
Virtually Maintenance-Free
Long Lasting Color
Energy Efficient

Choice of Color
Choice of Profile (Shape)
Choice of Gauge (Thickness)
Choice of Finish
Specialty Materials (Copper, Marblique)
ENERGY STAR Listed Colors
LEED Contributing Colors

Curving Capabilities Available
In-House Engineering & Design Assistance
Up to 45 Year Paint Warranties Available
CLICK FOR COLOR SELECTION AND SPEC SHEET

Save With Cool Roof Technology
Anyone can talk sustainability, but Metal Sales continues to lead the way with the industry's largest reformulation of highly reflective paint technology. The result is more than 100 ENERGY STAR and LEED compliant colors for Metal Sales' line of energy-efficient Cool Roof systems.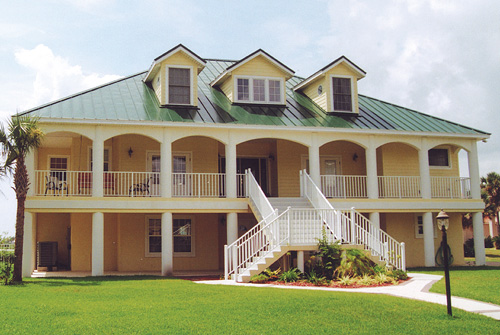 Durable, attractive and easy-to-install, these Cool Roof systems come in a wide range of profiles that can lower energy consumption and significantly reduce utility bills. Each reformulated Cool Roof color meets or exceeds ENERGY STAR and LEED compliance specifications, qualifying for current Government Tax Credits. An impressive 45 year paint warranty ensures your roof will perform beautifully, decade after decade. As an added feature, all of Metal Sales' standard colors are 100% Lead Free.
---

SPECIALTY ROOFING

StoneHenge- Stone Coated Steel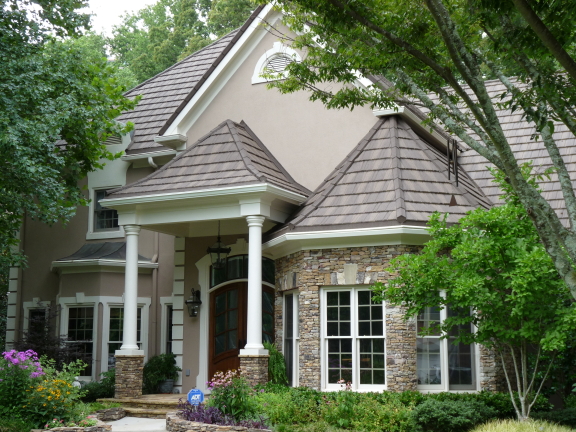 The History of Stone Coated Steel Roofing - Why Steel?
Steel has been used on millions of roofs for centuries. Steel is one of the best protectors of homes ever created. Steel doesn't burn… making it fireproof.


Steel is lightweight, lighter than composite shingles and much lighter than concrete, making it very construction friendly. Many roofs are not able to take the weight of heavy materials without expensive and extensive re-engineering and re-structuring.

Steel roofs are strong, making them almost impervious to weather, including hail. Our Stonehenge roofs are walkable and warranted against 120 mile an hour winds.

Flat, colored steel is installed on commercial buildings throughout the world. Your local gas station probably has a steel roof on it. But flat steel doesn't look that great on many homes, in a neighborhood. Stonehenge, manufactures a fireproof, lightweight, weatherproof roof that is beautiful to look at, and….neighborhood friendly. We have shaped steel and designed it to look like wood shake.

Stonehenge has even improved on regular galvanized steel. We use Zincalume steel, which prevents rust and gives an even longer life to a roof than regular galvanized.

We have also gone beyond just painted steel. We've added fine colored stone chips, embedded in a tough acrylic adhesive that we warrant to stay adhered for as long as you own your home. That's a lifetime guarantee for you and 50 years from the date of installation for the next succession of owners. And…unlike others, our warranty is not prorated.

Remember the name that has made steel even tougher and extremely beautiful- STONEHENGE STONE WOOD SHAKE


CLICK FOR COLOR SELECTION AND ADDITIONAL INFORMATION


Want To Stand Out From the Crowd?