GUTTERS, GUTTER GUARD COVERS, BELOW DECK RAIN SYSTEMS AND UNIQUE GUTTERS AND ACCESSORIES
Georgia Construction offers custom built (on-site)
6" seamless gutters with 3x4 downspouts.
Gutters include a baked on enamel finish with a lifetime warranty. All gutters are installed with a hidden hanger system that screw into the rafter tails. We also offer
round gutters, rain chains and many other unique gutter systems and accessories.
We offer a full line of
rain barrels
and other rain recycling systems. Georgia Construction also offer several
gutter protection solutions
. Please see some of our product details described below:
Half Round Gutter System & Accessories
High Quality, Roll Formed Gutter

Berger half round roll-formed gutter are crafted from the highest quality materials. Fabricated in copper, aluminum and steel, half round gutter products include everything you need to protect a home from water run-off. Half round gutter is available in standard gutter sizes (4", 5", 6", 7" and 8") and comes in a variety of lengths. Our half round gutter system schematic details all components and accessories.
Features & Benefits
• Available in painted aluminum, copper,
FreedomGray® copper, painted steel,
painted steel, galvanized steel and paint grip
• Gutter and accessories to fit most any need
• Offered in single bead, single bead w/ flange,
and double bead styles
• Available in white and brown
EuraCraft Gutter System™
Solderless, Classic European Style Copper Gutter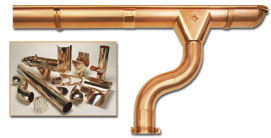 EuraCraft Gutter System™ has a classic European style all its own. It features expanded pipe ends for a smooth fit appearance, hinged pipe hooks with the option for spike thread attachment, deep drawn miter construction and plug in outlets with vortex draining benefits that can be moved and positioned anywhere. EuraCraft is available in 5", 6" and 7.56" sizes.
Features & Benefits
• Features high strength 18 oz. Copper for durability
• Seamless downspouts, elbows and miters
• Classic European appearance adds prestige and beauty

Rain Chains
A Beautiful and Functional Alternative to Downspouts

Rain chains are a beautiful and functional alternative to traditional downspouts. They are designed to break the fall of water and create a visual waterfall that produces a pleasing sound while gently guiding water to the ground. Berger offers six styles of rain chains that are available only in copper: Bell Cup, Funnel, Lily, Link Ring, SunDrop and Tulip. Over time, a natural patina will develop and add character and charm to any home. Rain chains are 8-1/2' in length.


Features & Benefits
• Guide water from rooftop to ground
• Create pleasing sound
• Add visual beauty to any home
---
Hallett Gutter Covers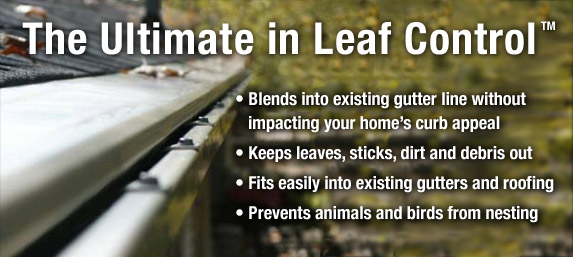 Hallett Gutter Cover®, with its patented design, has proven to work on homes like yours time after time. Testing has shown that Hallett Gutter Cover® can divert up to 6″ (15.24 cm) of rainfall per hour. Hallett Gutter Cover® is the answer to your most common gutter clogging problems. You'll have virtually maintenance-free gutters without all the work, saving you time and money.

---

Rain Flow Total Gutter Protection is a system that fills the entire gutter opening so that nothing but water can get in. When Rain Flow is installed, rainwater passes easily through the material and quickly flows to the downspouts. Leaves, spinners, pine needles, twigs and other debris stay on top but don't impede the flow of water. Because air flows both under and over the debris, it dries quickly and blows away on the next breezy day.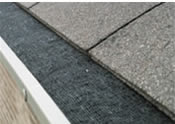 ---

UNDER DECK RAIN CARRYING SYSTEM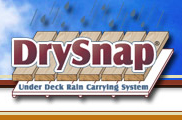 GEORGIA CONSTRUCTION offers a way to turn the space below your deck into an outdoor room. This space becomes useable, dry and comfortable. Our unit is made of vinyl ceiling panels that collect and drain water away from your new dry space. It provides a maintenance free ceiling that covers the unsightly underside of your deck, turning it into a clean, bright, dry outdoor space. Ceiling fans and other lighting options are also available.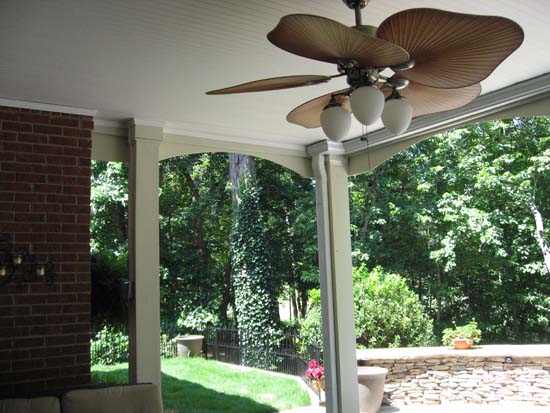 You can turn your space into a screen porch, add a hot tub or just use it as a comfortable outdoor room to relax. Even use the dried-in area to create dry storage for lawn equipment, bikes, etc.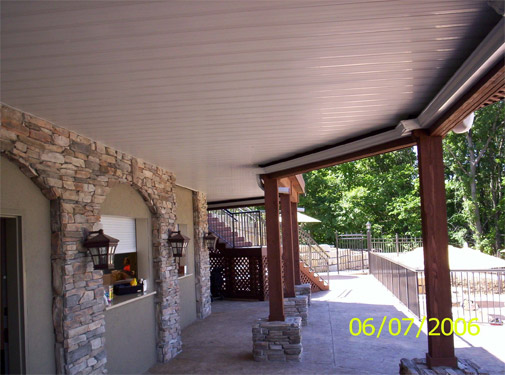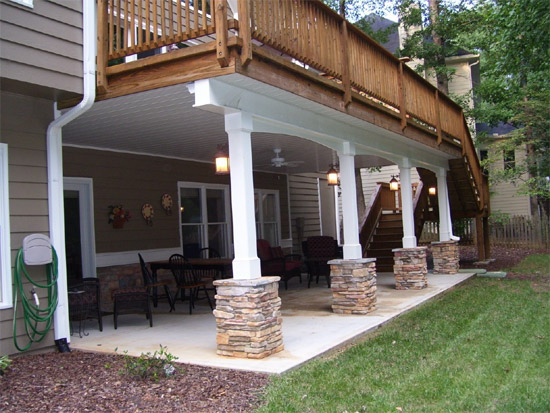 ---
RAIN BARRELS, DIVERTERS, ETC.






Georgia Construction carries a full line of Aquabarrel rain barrels, diverters and rain recycling products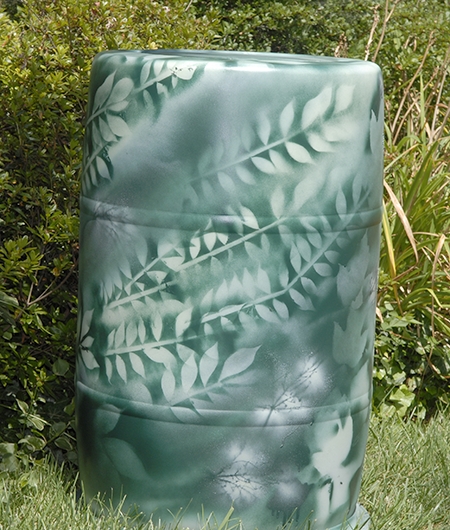 Key Features and Benefits to look for in a Rain Barrel
Small Openings, Resistant to pets and other animal intrution.

Re-Furbished Materials, Ecological Design




Aquabarrel Classic plastic barrels are the perfect rain water storage solution. They do what they are designed to do—hold liquid. Eliminating waste from landfills, oceans, and other dumping grounds, Aquabarrel

®

rain barrels are produced from barrels that have been recently emptied of their contents. No additional energy has gone into shredding another plastic product to create this one.

Balanced Water Flow, No Storm Water Overflow




The Aquabarrel Classic Overflow Port is equal in size to the downspout. Have you ever wondered what happens to the rest of the rain water after the rain barrel is full of water? Water cascading down the side of a rain barrel next to a house can cause irrigation problems and even compromise the foundation. The oversized Aquabarrel

®

Overflow Port will not fail to allow as much water out of the rain barrel as the downspout can pour in.

All Plastic Construction, Eliminates Leaks




An all-plastic system is less likely to develop leaks. Because metal and plastic expand and contract at different rates, we use only plastic components for the hose assembly of the rain barrel.


Hassle-Free System, No Clogged Screens or Filters




A system without screens is less likely to clog. Other rain barrels use metal or plastic window screen that may clog with gutter waste at the most inopportune times. If the downspout is clogged or if the filter is blocked, rain water can not enter the rain barrel. Water will take the path of least resistance and flow right down the side of the rain barrel next to the house. Debris that might get in and floats, will eventually be flushed out through the 3.5-inch diameter overflow port. For homes with lots of gutter clutter, Aquabarrel offers a unique manual downspout filter.


Debris Management, Debris Removal




The Aquabarrel Classic design places the garden hose assembly at one of the lowest points of the rain barrel. Gravity helps move most of the silt and other small particulate matter that sinks, out through the garden hose assembly.


Functional Design, Maximum Water Pressure Available




By design, the Aquabarrel Classic gives you increased water pressure. With the hose assembly at the lowest point possible, the water exiting the rain barrel is under the maximum amount of pressure.


Paintable Materials, Optional Custom Colors




The Aquabarrel Classic is a refurbished white plastic barrel. Should you desire to change that color, Krylon Fusion spray paint for plastic adheres well to the plastic barrel.